Master the Art of Online Selling!
This valuable sales and customer-focused international e-commerce business self-study course will help you plan and implement a powerful online store and sell your products and services effectively.
Is this course for me?
The COB Certified E-Commerce Program is suitable for anyone involved in managing the implementation or the sales of an online store. This course is ideal for the following people:
E-Commerce Directors and Managers
Heads of Online
Web Merchandisers and Store Managers
Business Owners
How will I benefit?
There are a number of practical benefits to following our non-technical e-commerce management program. Here are some of them:-
Learn how to engage your customers to subscribe, buy and interact
Gain valuable tips to increase your sales and reduce costs
Understand and learn how to avoid the common pitfalls
Discover new technologies and tactics for e-commerce
Learn how to attract customers to your store
Complete high-impacting practical exercises
Study to become a COB Certified E-Commerce Manager

"I've been able to begin restructuring things on this end. I found the course so beneficial...Everything I learned the E-Commerce Management Course was current and appropriate to my day-to-day work. The course challenged me to think outside my normal thought process and apply what I had learned to other businesses outside of my expertise.,", Melanie Newell - then Assistant Manager - EBay Outlet Store, House of Fraser

"The COB Certified E-Commerce Manager program delivers a full overview of all aspects that must be considered for e-commerce. It is based on case studies, web demos and workbooks to get the fundamentals. ", Charly Lupart, then End User Industry Marketing Director, Schneider Electric

"The course was practical and relevant, and I have already started putting lessons learned into action in my business. The course was not only helpful but really interesting and fun. I would urge any business owners who are formulating an e-commerce strategy to attend.", Amanda Waterstone, Business Owner

"I would recommend the course for someone who is looking for a complete high-level view of E-Commerce, the course content is extensive so it will equip you well for the future, whether it be your own business or in your workplace..." Chris Chapman - then Online Commercial Performance Manager, Hutchison 3G -
"Overall I found the COB Certified E-Commerce Manager Program to be very useful to me and the two other members of my team who attended with me..." Jacqueline Harper - then Director Online at Three (Hutchison 3G)

"The Certified E-Commerce Manager course covered all the different aspects of ecommerce. I really enjoyed it and would definitely recommend it to anyone in the ecommerce field", Mhairi McKenzie, then E-Commerce Co-ordinator, The Dune Group

"I chose to undertake the Self-Study E-Commerce Manager course so that I could study in my own time, whilst managing my work and personal commitments. I found the course very enjoyable. The topics covered exactly what I wanted to learn across the key areas of E-Commerce Management. I gained confidence in my existing knowledge and useful insights into other areas. I would certainly recommend the course to other e-commerce professionals, especially those who have come to e-commerce through other business disciplines" Jen Dargue Web & E-Commerce Manager at AMG Group
Your course will give you the following learning:-
E-Commerce Planning
Discover how a profitable store should be implemented or improved for your business!
What is E-Commerce?
E-Commerce advantages and disadvantages
Why do customers buy online?
Online store considerations and choosing the right storefront solution
Developing requirements for stock, tax, shipping and accounting
Secure online payments - requirements pitfalls and benefits
Introduction to e-commerce law
Content Strategy and Customer Experience
Engage your customers to buy, subscribe and interact!
Your downloadable e-book 'Content Strategy & Customer Experience Workbook', and online lessons give you access to the following essential learning:-
Learn how to plan, prepare and publish engaging, marketable, valuable and accessible web site content, that will attract and retain users and customers.
Understand, target and engage your audiences effectively
Learn how to powerfully present your ideas, information and other content online to maximise sales
Learn optimal web writing and search engine optimisation techniques
Web Merchandising
Discover powerful techniques to merchandise your products and services to maximise sales, with the powerful online lessons and downloadable e-book 'Web Merchandising for Maximum Sales'.
Digital Marketing
Learn how to market your online store, products and services effectively to your target audience, in an engaging way.
Your downloadable e-books 'Email Marketing Best-Practice Guide' and 'Introduction to Digital Marketing & Advertising', and online lessons will give you the following essential learning:-
Learn how to develop your marketing plan
Find out what traditional marketing and digital marketing channels will work best for your business
The art of effective messaging
Introduction to digital advertising
Search engine marketing
Banner and video advertising
Viral and affiliate marketing
Email marketing
Introduction to social media marketing and online PR
What else?
Included with your course access are online quizzes, hands-on exercises, revision practice questions, and useful time and cost-saving templates.
How long will the course take?
The length of time it takes to complete the course, depends on each individual. The modules, exercises and books take around 25 hours to complete, with an expected total of 35 hours of total study.
The COB Certified Manager certifications are industry-developed, globally recognised qualifications from the Digital Skills Authority.
COB stands for Certificate in Online Business™ and there are three 'Certificates in Online Business'.
Established since 2008, leading brands from all around the world send delegates on the COB Certified courses.
About the Exam
Each online course account is registered to one student only who is issued with a unique candidate number. Individuals cannot attend an exam without either attending a classroom course or purchasing the relevant self-study or e-learning course.
To ensure the authenticity of our examination process, delegates taking their exam are required to produce their unique candidate number and proof of identity.
The exam consists two practical written parts:-
1hr 30 minutes questions and answers - Part A
1hr 30 minutes e-commerce case study - Part B
The pass mark is 70%
Taking the Exam
NEW Virtual Exam Invigilation Option
Sitting your exam remotely is suitable when access to a physical location is not available or practical. Delegates will need a reliabe up-to-date computer with webcam, broadband internet connection and a smartphone with camera. Fees are $185
In Person at an Authorised Testing Centre
For Hand-Written Examinations in person, our Authorised Testing Centre partners include universities, professional institutes and government organisations around the globe. Browse centres from the links below:
Our Authorised Testing Centre partners include universities, professional institutes and government organisations around the globe. Browse centres from the links below:
Exam Invigilation Fees - Paid direct to Authorised Testing Centre (ATC)Fees range from $75 - $250 depending on the ATC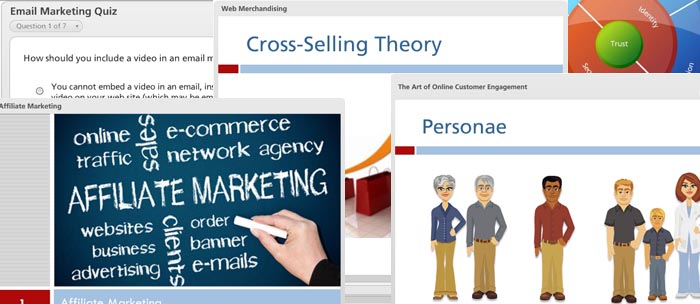 Above: Sample Screenshots of E-Learning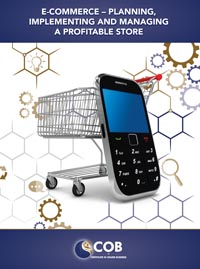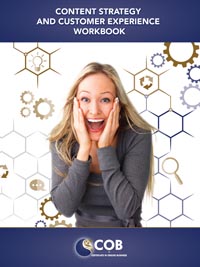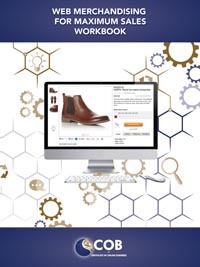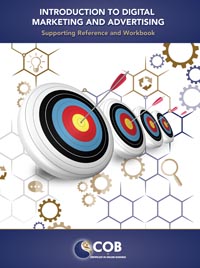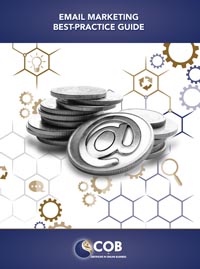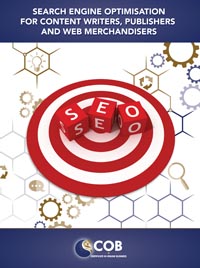 The sharing of login details or multiple user viewing per subscription, is strictly prohibited
Subscripton fee is per person, and entitles the subscriber only to purchase and book their exam using the unique candidate number provided by us
Copying, distribution and sharing of the downloadable books or online materials are strictly prohibited. Doing so would be infringing the legal copyright of Digital Skills Authority Ltd, all rights reserved
Subscription to your online course is acceptance to start our service to you immediately. Your subscription may not be cancelled or refunded.
View Full Terms & Conditions