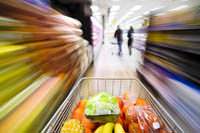 Cross-Channel Selling
Forget multi-channel selling, think cross-channel! Mature businesses understand that fully-integrated approaches to selling, win customers and keep them coming back.
The majority of today's retailers have a web channel, as well as a high street store. Many have phone and mail order to consider also. So how can these can these retailers serve customers effectively across all channels simultaneously and seamlessly without restricting the business?
Retailers should work towards the following targets:
A single integrated cross-channel ordering system
A single customer profile for in-store, mail order, phone and internet orders
A streamlined approach to product fulfilment through any channel
Collaboration amongst staff working in all channels
According to publicised statistics, there has been a 80% year on year rise in internet sales and a 3.3% rise in high-street sales. More recently leading retailers and the press have reported a significant decrease in high-street sales, fuelling more fear in the national and global economies. Does this mean that customers are simply not buying? Are they just being more prudent or are they going online for purchases?
Let's examine the key motivators for shopping online:
Cheaper pricing and bargains
The ability to compare offers online between competitors, quickly and easily
Ease of ordering
Home Delivery
Now let's examine the key motivators for shopping in-store:
Face-to-face interaction and advice a sales person
The ability to touch, smell, examine and try out products such as clothing, furniture and beauty products
The overall experience of exploring products in-store
Businesses seeking profitability and the competitive-edge should be looking at ways to drive customer traffic between the physical stores and web, improving overall customer service and increasing revenue. Realistic sales reporting can then be achieved by looking at sales figures collaboratively amongst channels, not only independently. Businesses implementing such a unified customer service and sales approach will succeed in the current economy and the next.
Author:
Deborah M. Collier - President - Digital Skills Authority Date:
29th September 2008